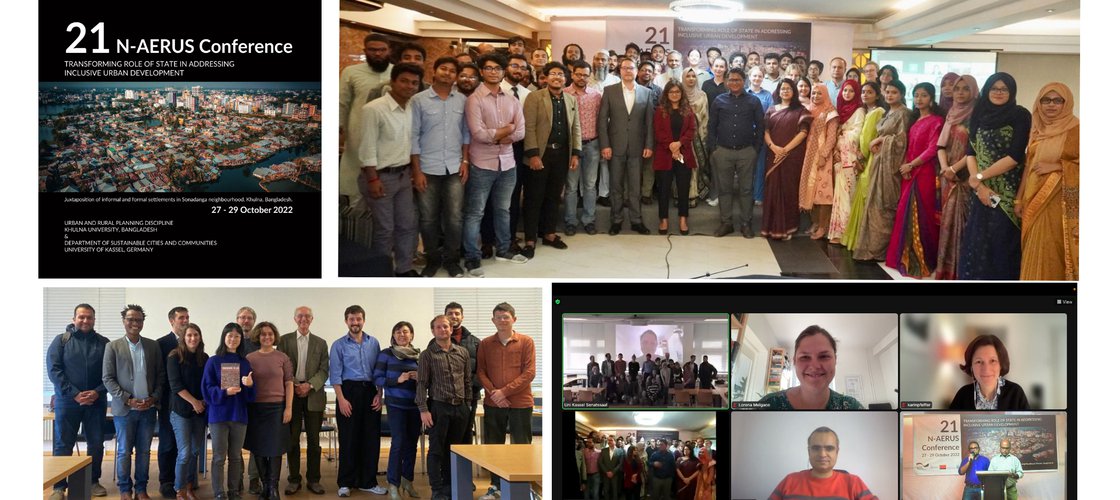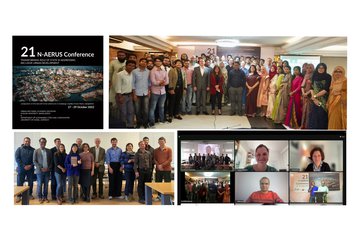 21st N-AERUS Conference on "Transforming Role of State in Addressing Inclusive Urban Development"
21st N-AERUS Conference on "Transforming Role of State in Addressing Inclusive Urban Development"
21st N-AERUS Conference on "Transforming Role of State in Addressing Inclusive Urban Development" took place in a multi-locational and hybrid platform from 27th to 29th October 2022. The Urban and Rural Planning Discipline of Khulna University in Bangladesh, and the Department of Sustainable Cities and Communities, at the University of Kassel in Germany organized the conference on behalf of N-AERUS. The book of abstracts is available here.
The conference was a unique opportunity for scholars from all around the world to join and exchange their research and experiences on urbanization in the South. We were delighted to host in total five keynote speeches, 26 paper presentations, and four book presentations in addition to a documentary film across various institutions from 13 countries. The hybrid format of in-person participation in Kassel and Khulna as well as online access to the conference allowed more than 150 scholars to participate in the event throughout the three days. So, we were able to achieve our target and provide a wider platform and a larger perspective on the issues of urbanization in the global South through an interdisciplinary and transregional approach.
Nine sessions covered a variety of topics ranging from the global crisis and local challenges to ideologies and policies as well as emerging agents, dynamics, and narratives. The Keynote speakers both in Kassel and Khulna were Prof. Dr. Harry Smith, Prof. Ya Ping Wang, MSc. Arch. Geoffrey Payne and Dr. Ximena de la Barra. In advance of the conference, we hosted Andreas Kemper presenting his recent book about the origin and varieties of private cities in Kassel. The organizing committee from the University of Khulna, the University of Kassel, and N-AERUS will publish a selection of contributions in an edited volume in 2023.
---